Peak to Peak Ziplines Opening Season Special
Adults (18+) $55* $79
Youth (17 and under) $45* $69

NEW limited time offer: Family of 4 for only $175*
Zipline over Camp Fortune and the Gatineau Park on our NEW Peak to Peak Ziplines
Ride Ottawa's longest ziplines! This zip tour features 3 dual highspeed ziplines and a drop tower!
Reach speeds up to 80 km / hour! These giant ziplines are INCREDIBLE! 
Start your adventure with a chairlift ride to the top of Marshall and zip across the Camp Fortune Valley to McDonald.
The 3 zipline course spans 4,478 ft and offers spectacular panoramic views of the Gatineau Park.
These are dual ziplines so be sure to bring the family or friends to soar with! 
End your adventure with the 50 ft Free Fall jump! Don't want to jump? Don't worry, we have stairs too!
The best part is they are automated, we clip you in, you enjoy the ride and the braking is automatic. A totally different system than in our aerial adventure park (which is also fun, but a challenge course- check it out too!). 
This adventure takes about 1.5 hours.
Plus applicable taxes.  *Participants must weigh between 90 lbs and 250 lbs. Prices are subject to change without notice. 
Reservations are always required and all ticket sales are final.
Spring- May 20 to June 18
Weekdays: Open for group reservations only*
Weekends and Holidays –May 22, July 1, Sept 4, Oct 9: 9 am – two hours before dusk
*For groups of 15 or more
Summer - June 23 to Sept 4
Weekdays: reservations are available between 10:30 am and 3:30 pm.
Weekends: reservations are available between 9:30 and 3:30. 
Autumn - Sept 9 to Oct 22
Weekdays: Open for group reservations only*
Weekends and Holidays (Open Thanksgiving Monday): 9:30 am – two hours before dusk
*For groups of 15 or more 
All participants must complete this waiver online. Parental or guardian signature required for children less than 16 yrs of age. Must provide copy with original signature. Electronic waivers are used.
Please arrive 30 minutes before your reservation time to allow for check in and harnessing.
Please allow 1.5 hours for the adventure.
Minimum weight of 90 lbs and maximum weight of 250 lbs.
Ages 12 and under must be accompanied by an adult.
This activity includes walking, climbing stairs and high speed ziplines with automatic braking systems.
The adventure ends with a 50 ft Free Fall jump! Don't want to jump? Don't worry, we have stairs too!  *The free fall is a controlled jump with an auto belay system.
A basic level of fitness is required.
A helmet and harness are provided.
The activity is not suitable for pregnant women, those with heart conditions, back injuries or any serious medical conditions.
It is forbidden to participate in the activity while under the influence of drugs or alcohol, including legal cannabis. No refunds will be issued if you are denied entry due to suspicion of impairment.
No smoking/vaping cigarettes or cannabis on the site (on all trails and parks)
Closed shoes are mandatory. No sandals/crocs allowed
Long hair must be tied back
We are not responsible for lost or stolen objects
You may not hold anything while ziplining as both hands are to be on the handles
You must respect the operator's instructions as well as other clients or you will be asked to leave
Anyone doing the activity must have completed the waiver form
You are fully responsible for all equipment loaned to you until you have returned it
You may be expelled from the activity if at any time you are not following the safety regulations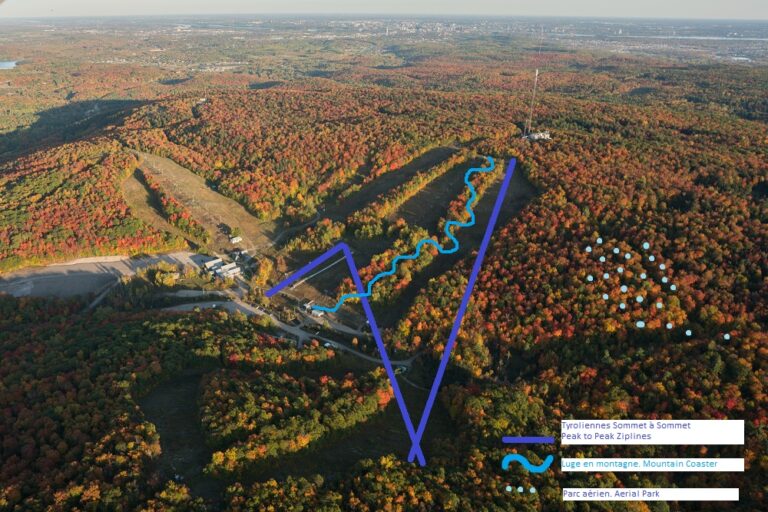 Please arrive 30 minutes before your scheduled time. Park in the lower parking lot and check-in at the new customer service desk where you will be weighed and directed to the meeting and harnessing area. A guide will then escort you to the chairlift where your adventure begins!
*All participants must sign a waiver. Minors under the age of 16 need parental or guardian signature. 
Pay per use lockers are available. 
Please dress for the weather.
No loose clothing, long hair must be tied back.
Closed toed shoes are mandatory.
Helmet and harness are supplied.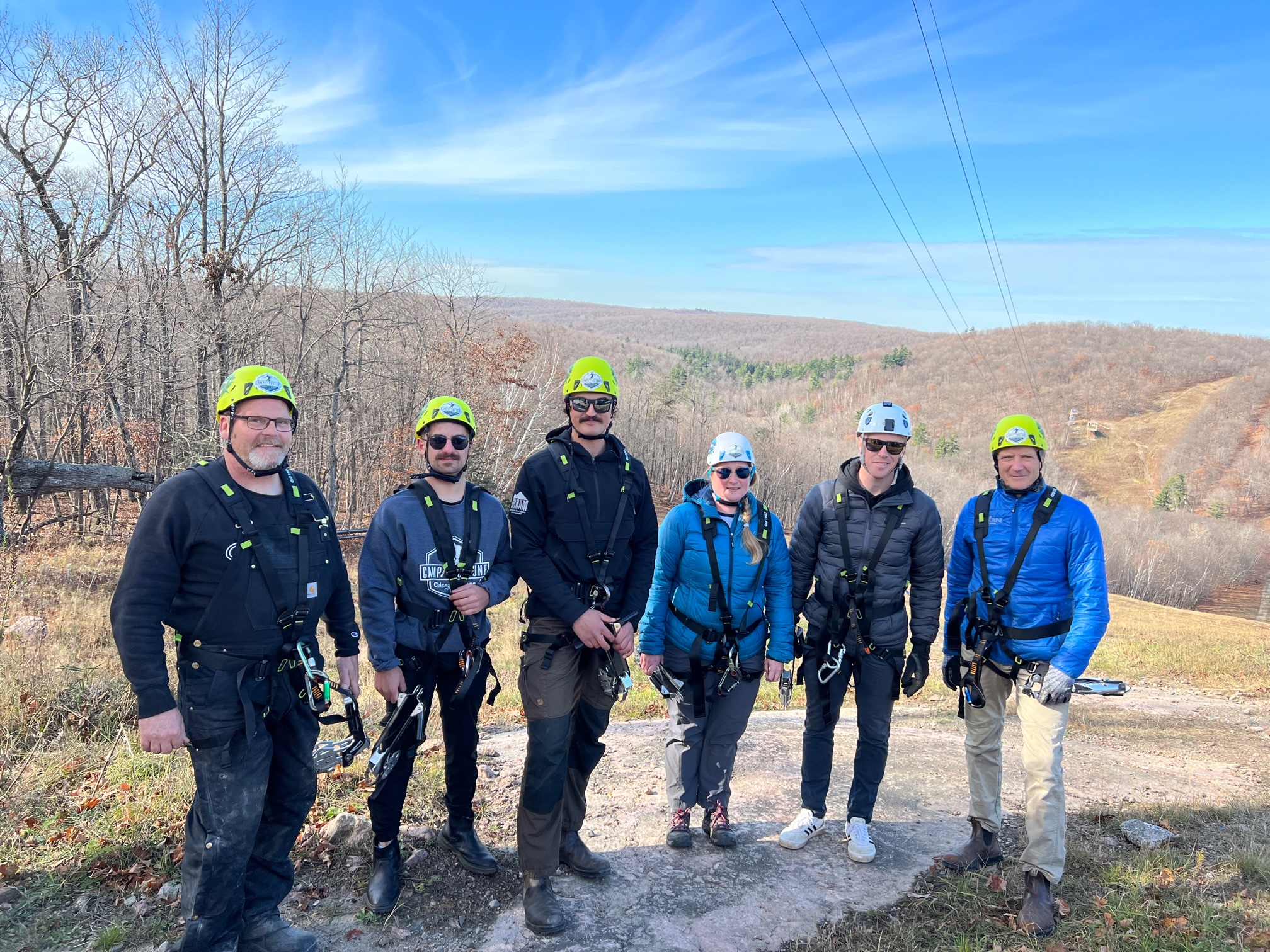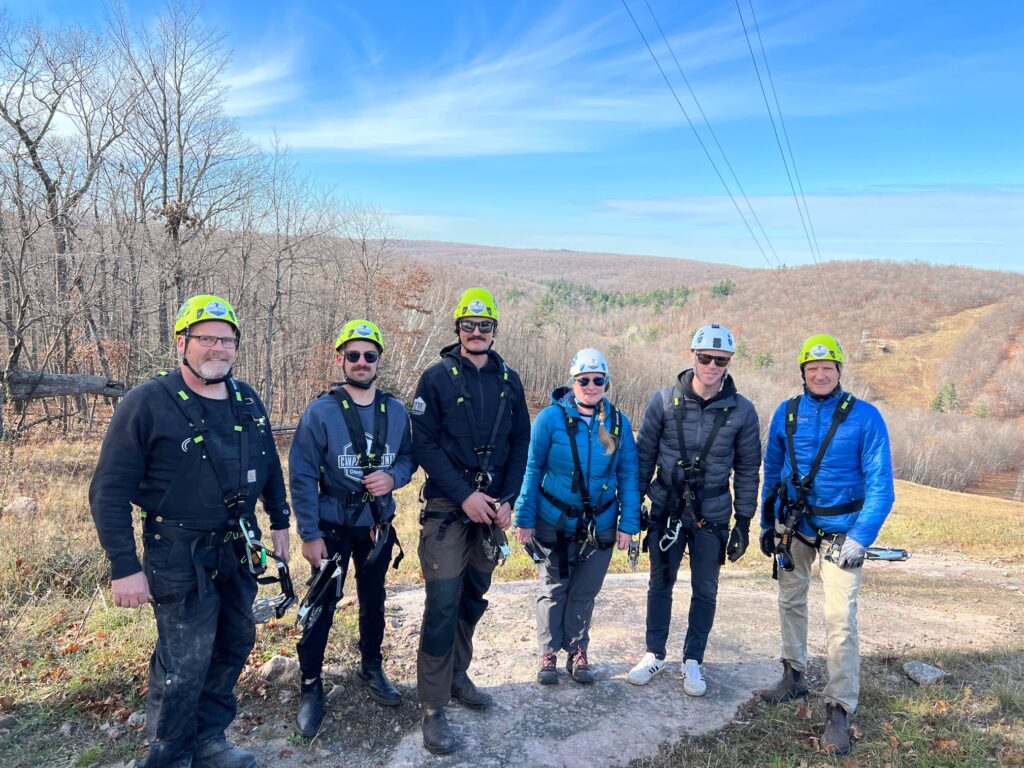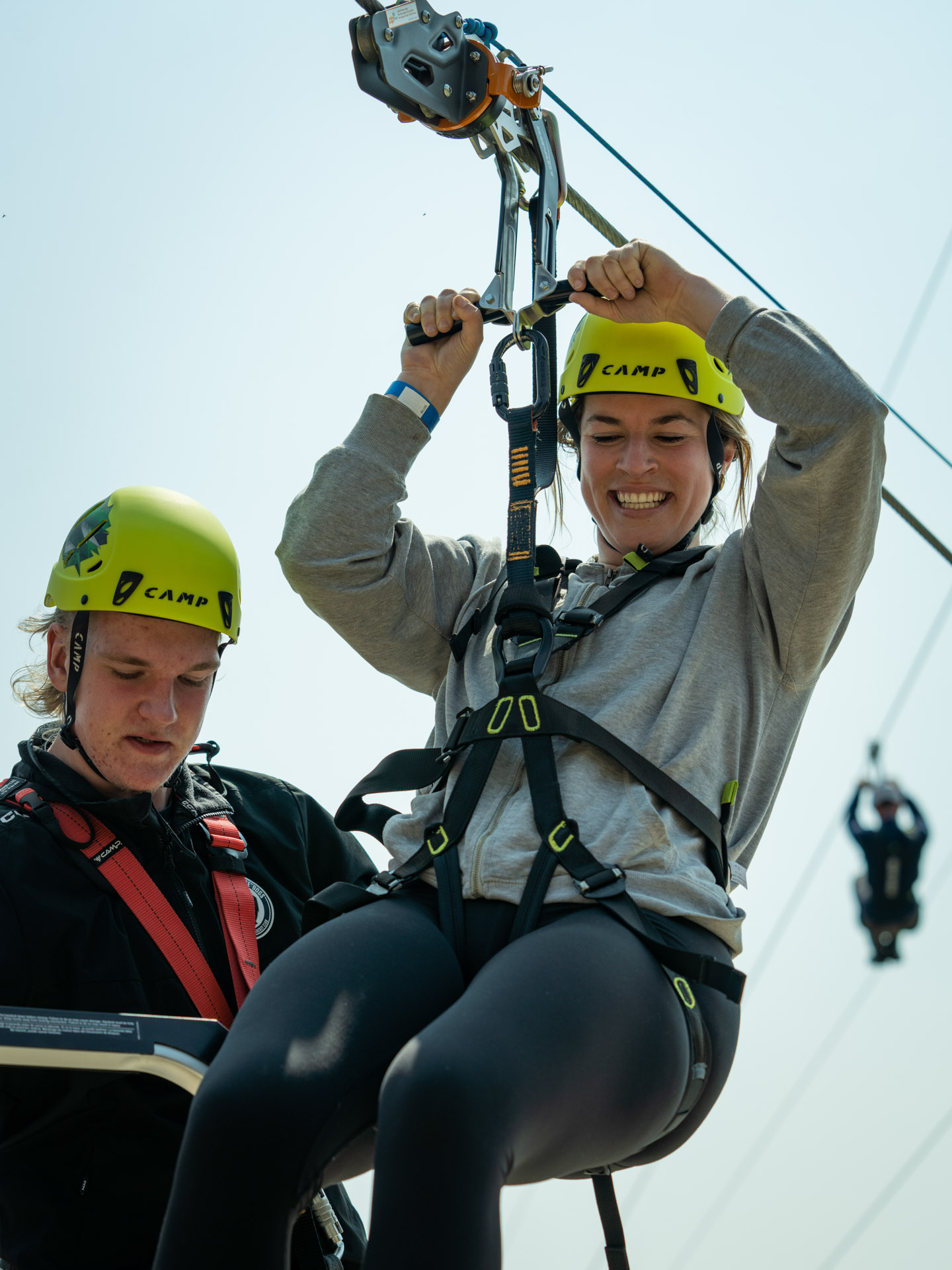 Clients are not permitted to bring anything with them, no water bottles, cameras, backpacks or otherwise. We have pay-per-use lockers available to store your belongings.
Terms of Use and Refunds: All guests must meet weight restrictions of the activity and will be weighed at check-in for verification. Weight restrictions are for safety purposes and are firm.
All guests must be present for the pre-activity instructional session and must adhere to the given rules. It is the guest's responsibility to ensure that all safety criteria are met in order to access the course.
The person(s) named on this ticket assume(s) all risk of personal injury and loss or damage to property. Individual tickets are required and are date specific. All tickets are final sale; non-refundable and non-transferable. If the guest chooses not to complete the activity for whatever reason, tickets are non-refundable and non-transferable.  If the activity must close due to weather conditions or unforeseen circumstances, your ticket will be rescheduled or refunded.