Take a ride on the region's newest attraction! Twist and turn down an exhilarating 1 km long monorail track with speeds up to 40 km/hour!
Your experience starts with a scenic chairlift ride up the valley chairlift with views of the rolling Gatineau Hills. Guests then cruise down the track through the forest, onto the Clifford and Marshall ski runs and through tunnels.
The gravity fed mountain pipe coaster reaches speeds up to 40 km/hr but the rider can control the speed with the handbrake. Push all the way forward for a full speed adventure or pull back for a scenic cruise. Ride multiple times to find your speed.
is controlled by a push to go forward and pull back to brake lever.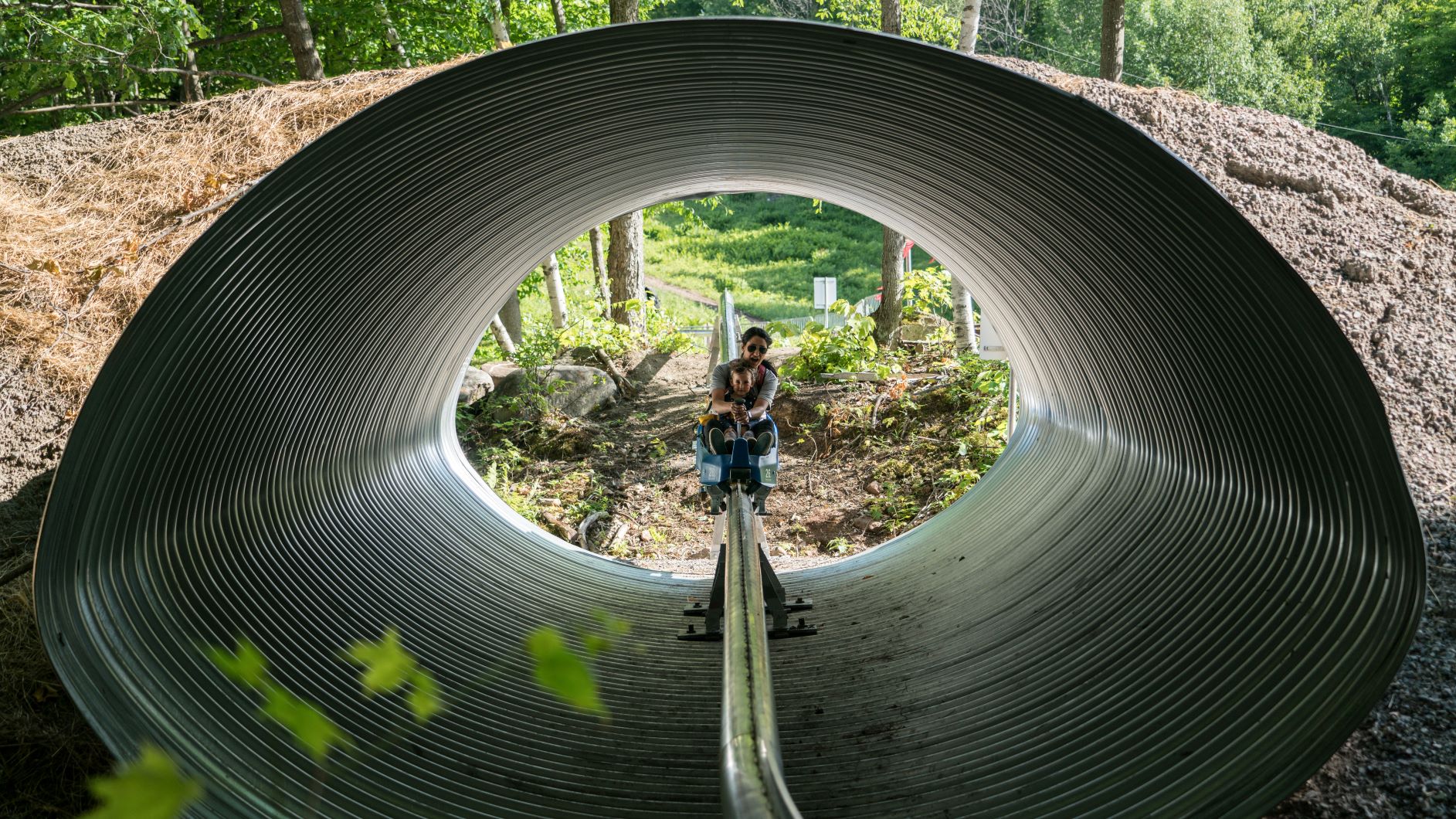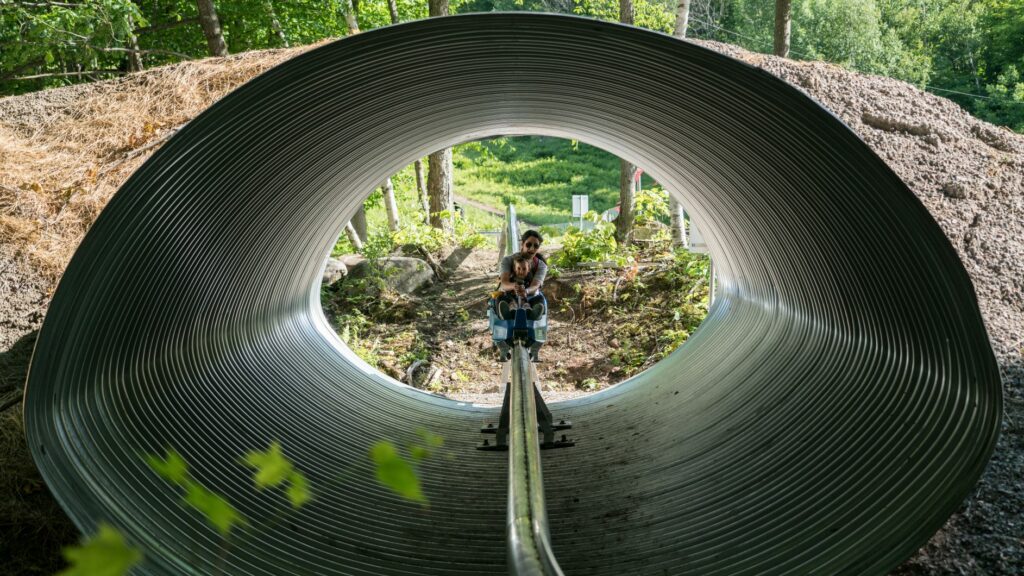 Tickets are sold online and on site, ride is open 11 am to 5 pm. Riders must have sufficient physical dexterity, ability and knowledge to safely load, ride and unload the coaster. 
*Plus applicable taxes. Tickets are per person and available based on operating hours. A passenger is a child 8 years old and under. 

Special offer: Group of 4 for $69!
Spring - May 20 to June 18
Weekdays: Open for group reservations only*
Weekends and Holidays: May 22, June 24, July 1, Sept 4, Oct 9: 11 am – 5 pm.
Summer - June 23 to Sept 4
Weekdays: Open 11 am to 5 pm.
Weekends :  Open 10 am – 5 pm.
Autumn - Sept 9 to Oct 22
Weekdays: Open for group reservations only*
Weekends and Holidays:
Open Thanksgiving Monday: 10 am – 5 pm.
*For groups of 25 or more
Mountain Coaster Information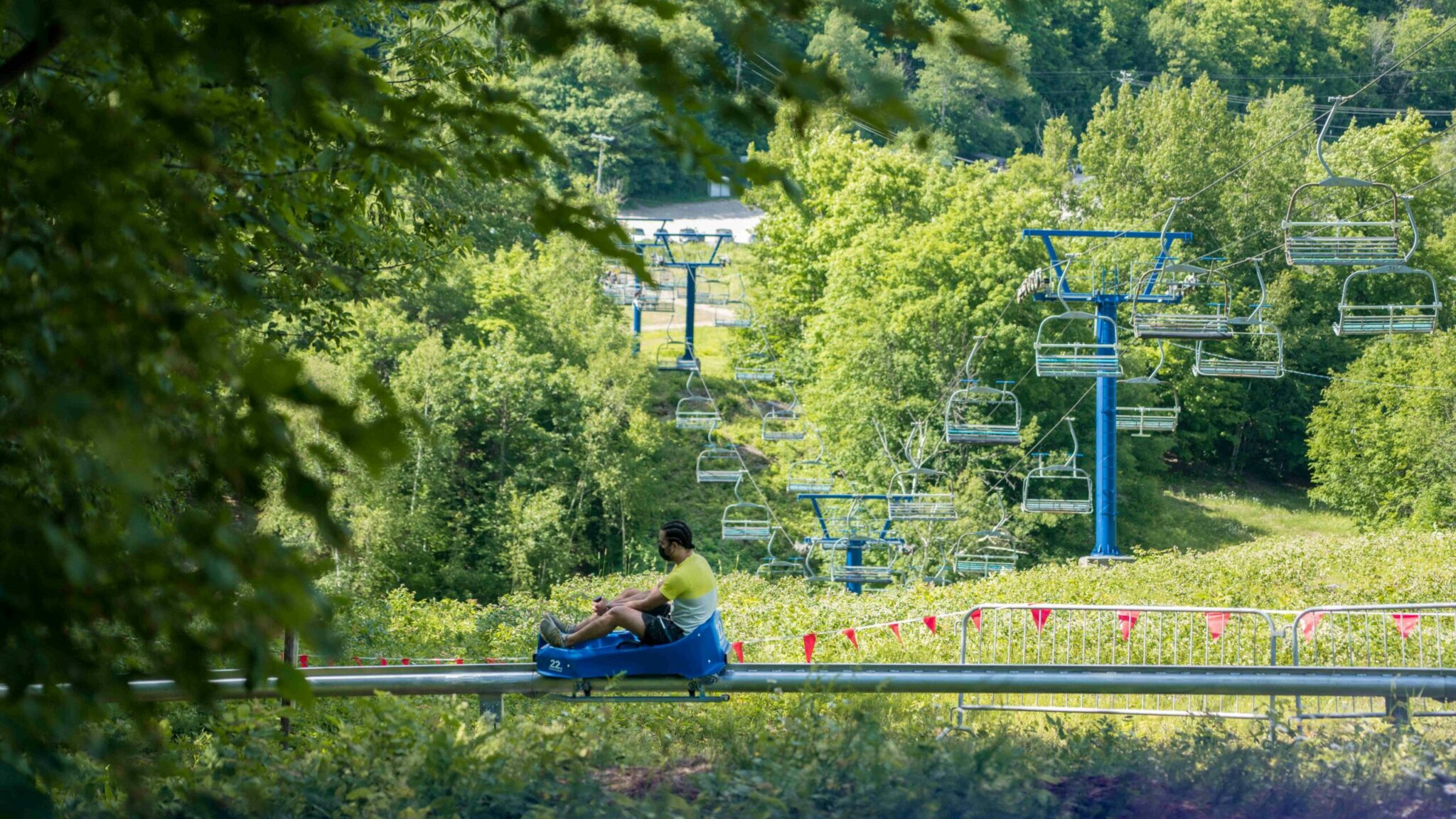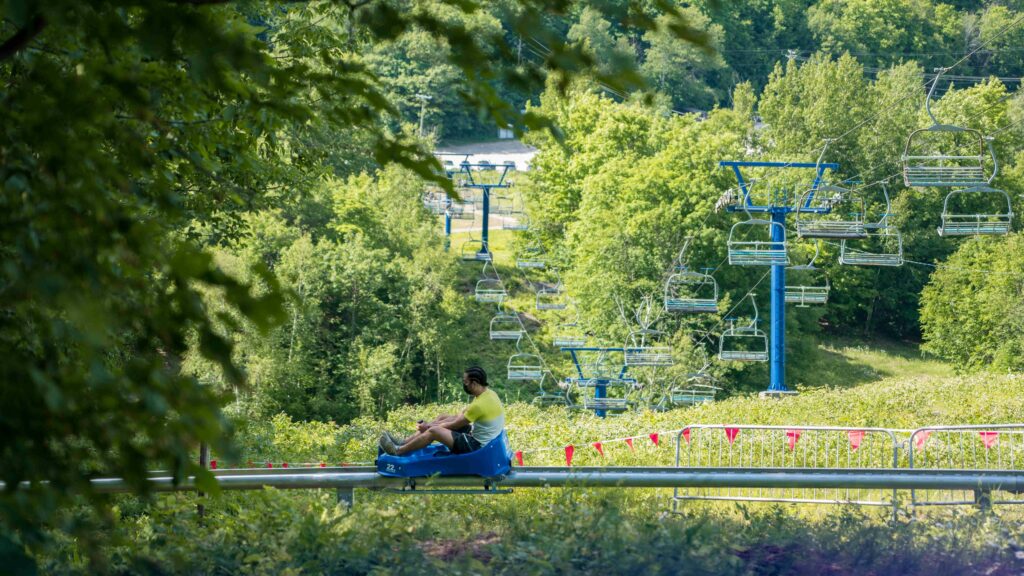 Ziplines & Coaster (1 Ride)
$94* PEAK TO PEAK ZIPLINES OPENING LATE SUMMER 2021
Camp Fortune Aerial Park and Pipe Coaster Package
Includes aerial park and coaster (1 ride)
The 11 rules for your safety
Exit the track immediately at the finish
Children under 8 years of age only accompanied by an adult.
Use during pregnancy is prohibited
Read the safety instructions and conditions of use carefully before using the system.
Please note the notice board "11 rules for your safety" in the starting area.
The instructions on the notice boards must be followed whenever the system is used.
This is a sports facility! Every user rides this sports facility at his own risk. The passenger is responsible for his/her riding behaviour. In particular, the user must always ensure that his speed and clearance to others are adapted to the conditions.
Children under 8 years of age may only ride in two-seater toboggans together with someone older who is familiar with using the toboggan. Children under the age of 3 are not allowed on the track, even if they are accompanied.
Participants must be 8 + to ride solo.
A toboggan may not be loaded with more than 118 kg.
Animals or umbrellas, walking sticks and other bulky, pointed or loose objects may not be taken into the toboggan.
Loose clothing (belts, scarves and shoelaces, etc.) and long hair (braids) must be kept away from the track and wheels.
Leaning out or stretching arms and legs out of the toboggan is prohibited. Do not touch the track.
People under the influence of intoxicants (alcohol, drugs and sensory influencing drugs, etc.) are not allowed to use the system.
People who cannot properly operate the toboggan due to physical or mental limitations, etc. are not allowed to use the ride, except when accompanied by a specialist or someone they trust who assumes responsibility for it.
Smoking is prohibited during the ride.
Accidents must be reported immediately to the operating personnel.