Generations of Families of Ski Camp Fortune
Camp Fortune is a full-service ski area, located only 15 minutes from downtown Ottawa-Gatineau, in the heart of the Gatineau Park.
The history of Camp Fortune's development showcases the impact this resort has had on skiing in the region from as far back as 1910 to present day.
Camp Fortune often won the praise of Governors General in the past who commended the Ottawa Ski Club for their part in promoting active living in the region.
Camp Fortune is one of the oldest alpine ski centres in Canada, dating back to 1920.
Camp Fortune was the early training ground for Olympians Betsy Clifford, Anne Heggtveit, Patrick Biggs and Crispin Lipscomb
Former Olympian Patrick Biggs is current President of the Camp Fortune Ski Club as well as a coach.
We branched out 10 years ago, adding aerial park and zipline courses, offering customers year round active adventure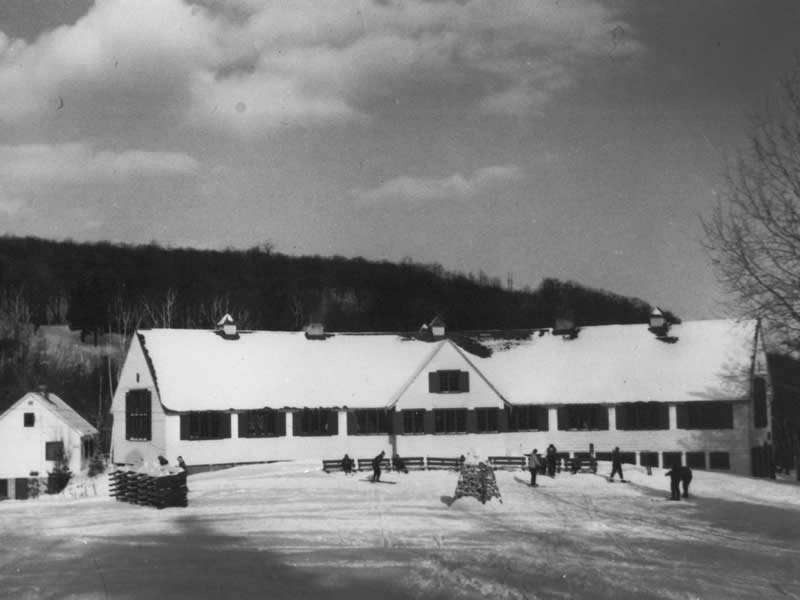 Camp Fortune Lodge 1950-1960
The "great white lodge" at Camp Fortune was the site of many happy times. This was the only lodge in those days. It was destroyed by fire in the 1960s.
Photo courtesy of: Gatineau Valley Historical Society
1920-2020 / Celebrating 100 Years
Video by Dave McMahon. Kuma Fireworks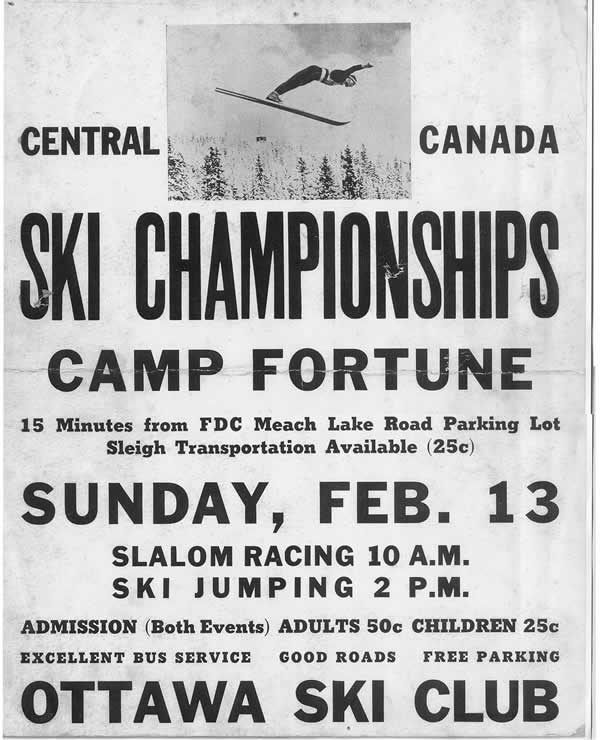 Central Canada Ski Championships at Camp Fortune held by the Ottawa Ski Club
Date: 1949
Location: Chelsea, Quebec, Canada
Photo courtesy of: Gatineau Valley Historical Society
In 1910 the Ottawa ski club was founded and ran activities from Rockliffe Park, Ottawa. Although activities were suspended from 1915-1919 due to WWI, the Ottawa Ski Club reconvened in 1919 and commenced activities which have not ceased to this day. The history at Camp Fortune began in 1920 with the purchase of Garrett Fortune's woodsman's shack in the area of Fortune Lake and Fortune Hill. The modest camp building was renovated and served as the club's first lodge and is the reason for the name Camp Fortune.
Skiing pursuits at that time were focused primarily on trail running or what is now referred to as cross-country skiing as well as ski jumping. Ski jump towers were built in Rockliffe Park and later, at Camp Fortune, although popular, this ski discipline was participated in by only a small percentage of the club members who largely preferred trail skiing.
Sundays were ski days and eager skiers gathered at Ottawa Station, equipment in-hand, for the north-bound train to Kirk's Ferry where they would begin their cross-country trek to Camp Fortune. From 1921-1932 the Gatineau Hills were filled with skiers making their way along a network of trails from Wrightville (Hull, now Gatineau) to McCloskey's Farm and the Western Lodge and Camp Fortune, sixty miles of trails in all. Trails were maintained and patrolled by the Ottawa Ski Club "night rider" volunteers before the National Capital Commission began the Gatineau Park patrol.
Some famous visitors included Governor General Willingdon (1926), Lord Tweedsmuir (1935), Governor General Alexander (1946), Her Royal Highness, Princess Alice, the Grand Duchess of Luxembourg, Prince Bernhard of the Netherlands (1943), Right Honourable George P. Vanier, (1959) and MacKenzie King to name a few. In the 70's Prime Minister Pierre Trudeau was known to carve a few turns on the slopes and during his term as Prime Minister, Jean Chretien enjoyed racing his bodyguards on the slopes of Camp Fortune in his spare time as Prime Minister and still occasionally  skis with us today!
Mort's Ski Hill at Camp Fortune in the 1940s.
Photo courtesy of: Gatineau Valley Historical Society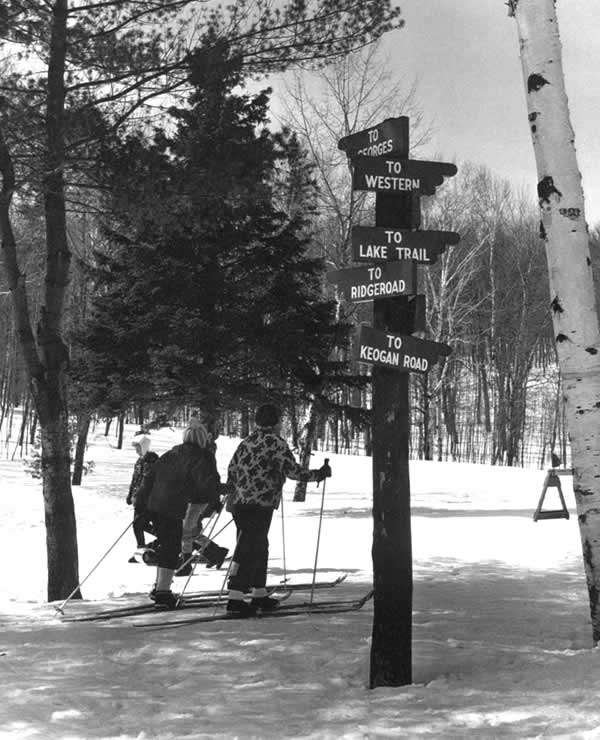 Skiers outside Camp Fortune Lodge in the 1940s.
The pole contains the original trail names: "Georges", "Western", "Lake Trail", "Ridgeroad" and "Keogan Road".
Photo courtesy of: Gatineau Valley Historical Society
The easy access by road and its proximity to the city proved Camp Fortune to be the primary destination for skiers from Ottawa and Hull (now Gatineau). From 1925-1930 the trail network centered around Camp Fortune and greater developments began with the opening of Slalom Hill in 1932, the first "open hill" (downhill) skiing at Camp Fortune. This was followed by the first rope tow in 1940 and between 1932 and 1959 the Hill changed dramatically, with the opening of runs that make up most of what Camp Fortune offers today for down-hill skiing.
In 1927 the Federal District Commission, now known as the National Capital Commission was founded and in 1947 that commission agreed to assist Camp Fortune in the further development of the resort for recreational skiing. Between 1947 and 1959 the valley side was opened with three new hills. In 1959 the Skyline side was opened with a poma lift and in 1961 a chair lift was added.
As modes of transportation changed so did the infrastructure at Camp Fortune. At one time all skiers arrived from Ottawa and Wrightville by train, following that period came motor transportation with buses operated by the Hull Transportation Company. Once the car became popular, changes again had to be made, as the current access, Dunlop Road, was restricted to use by the bus company. In 1955 the first parking lot opened at Camp Fortune's main lodge allowing skiers to arrive by their own cars.
Between 1921 and 1964 lodges were built and expanded to keep up with the increased interest in downhill skiing. Some of the greatest lodges were the Great White Lodge opened officially by Lord Tweedsmuir in 1939 and the main Camp Fortune Lodge in 1964. Unfortunately, both these lodges have since burned. The main lodge that exists at Camp Fortune today was built in 1994 with expansions in 1995 and most recently an expansion was completed in the fall of 1999 with a new kitchen and cafeteria.
Management and Programming
The Ottawa Ski Club functioned on a membership basis with very modest fees up until the 1960's. In the 1960's the executive acquired a business perspective and made decisions that would ensure the continued growth of the club and the development of Camp Fortune. In 1972 the club arranged to purchase concessions held by various entities throughout the development of the resort.
In 1994 Camp Fortune was purchased by Peter and Robert Sudermann, owners and managers of a ski resort near Winnipeg. The brothers immediately started to improve and expand the existing infrastructure. The Sudermanns have a long-term lease of the land from the National Capital Commission and are committed to creating and maintaining the best full service ski resort and four-season operation in Ottawa and Canada's Capital Region.
The Ottawa Ski Club has recently switched back to it's original name and still operates an active racing program at Camp Fortune. Over the years the programming at Camp Fortune's ski school has had a great emphasis on coaching and instruction which made Camp Fortune one of the best resorts in the area for family skiing. This remains true today with Nancy Greene Racing programs, the Fortune Academy Juvenile and Junior instruction, private and group lessons as well as a very popular "Skiing & Schools" program.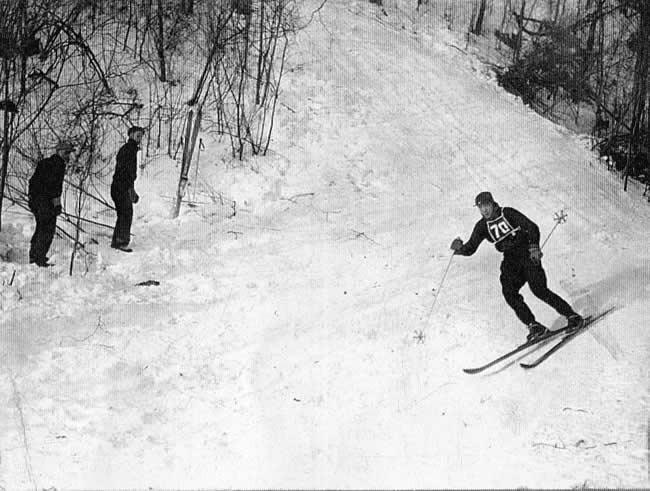 February 13, 1949 Central Canada Ski Championships
Held at Camp Fortune by the Ottawa Ski Club, the downhill event took place on Kings Mountain. Skiers walked to the top and skied down to the bottom finishing at Beamish Lodge. The skier in this photo is Andy Tommy whose time was 1:07. Andy Tommy developed the Edelweiss Ski Hill.
Photo courtesy of: Gatineau Valley Historical Society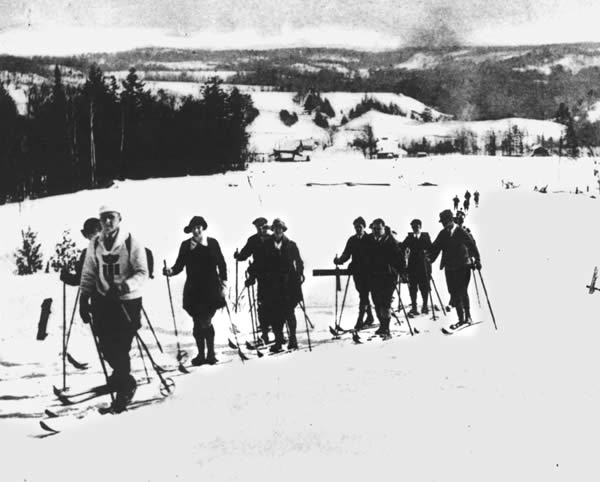 Chelsea, Quebec, Canada – 1917
Just off the train at Kirk's Ferry and ready to ski to Camp Fortune, Pink Lake and Hull, then take the streetcar home.
Photo courtesy of: Gatineau Valley Historical Society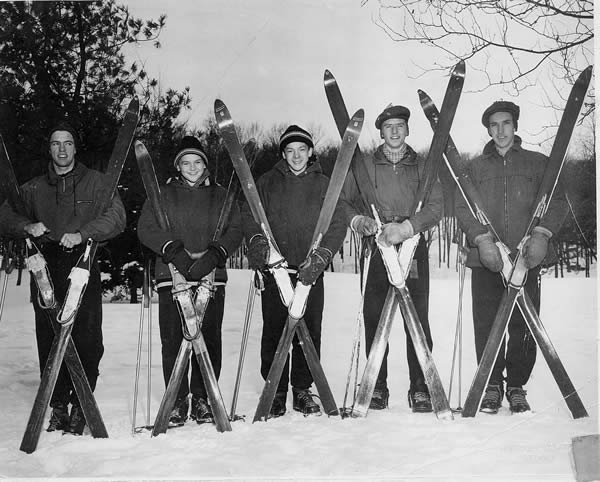 Skiers, Camp Fortune, 1949
Left to Right: John Bergeron, Art Tommy, Andy Tommy, Dave Gill, Jim Soame. Taken behind the Fortune Lodge.
Photo courtesy of: Gatineau Valley Historical Society
2000 – Meech Slopes Re-Open
In the fall, a quad chair was added to re-open the Meech slopes with 3 new runs. Camp Fortune's up-hill capacity now tops over 13 000 people per hour.
2007 – A New Snow Making System
Camp Fortune invests in state of the art HKD Snowmaking System. Work was completed in the fall on the installation on the new snowmaking system. This means more snow, better conditions and more skiing.
The benefits of the HKD guns are that they are a high efficiency gun, they convert more water into snow using less air allowing more guns to make snow at once, producing more quality snow at a faster rate. So far customer feedback has been overwhelmingly favourable.
2010 – Magic Carpet Installed
In the fall a magic carpet was installed in the valley and renamed Pee Wee Park Waxman's Way after Steve Waxman, who was instrumental in the creation and success of the Ski Wee program.
2012 – More Snowmaking
Snowmaking line down Bud 4500 ft of pipe down Bud Clark and lower Canadian and invested in 22 tower fixed guns on Skyline
2013 – Increased Snowmaking
A new pump added 50% to snowmaking capacity
2013-2014 – Additional Magic Carpet
After the success of our first conveyor lift we installed a second magic carpet to serve even more beginner skiers and snowboarders .
2014-2015 – "Duffy" Opens
We opened our new run "Duffy" next to Slalom. This run offers unique terrain and is incredibly fun on a powder day.
2015 – Complete resurfacing of Humdinger
Fewer rocks and ruts on Humdinger means better snow conditions all year on this important cross over run.
GROOMING EQUIPMENT
2008: Purchased a brand new Pisten Park Bulley
2010: Purchased a brand new  Pisten Bully 400.
2015: We have purchased a brand new Pisten Park Bully and a winchcat (for uphill grooming on steep terrain) as we remain dedicated to providing exceptional conditions.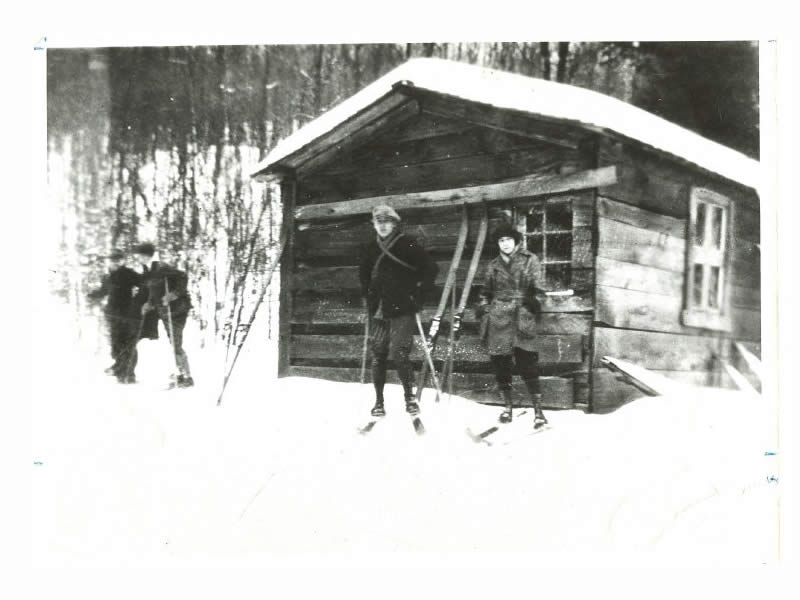 The Ottawa Ski Club was established in 1910 and was the largest ski club in Canada. At first organized for ski jumping in Rockcliffe Park, the club changed its focus at the end of the First World War. At that time, it set its sights on the lands around the property of Garrett Fortune, a pioneer of the hills, whose modest "camp" would become Camp Fortune. (source GVHS)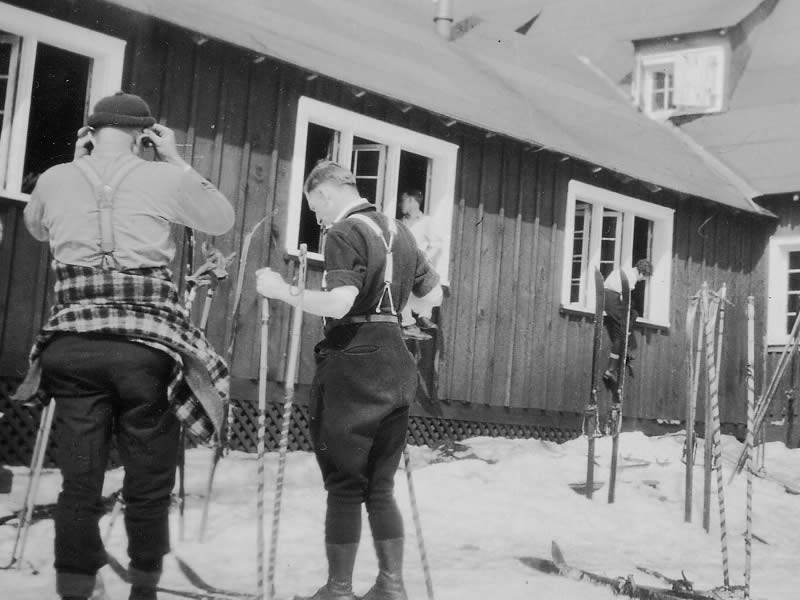 Camp Fortune Ski Lodge in 1931, this lodge was later destroyed by fire.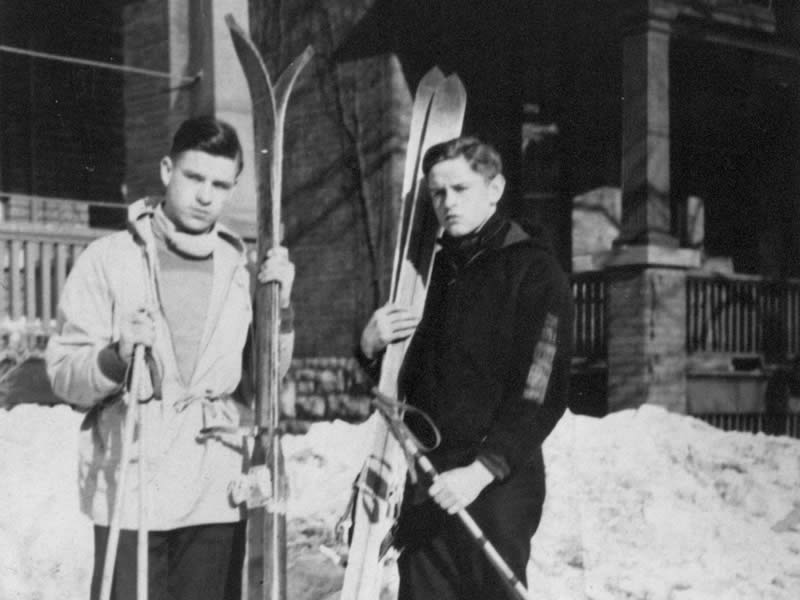 David and John Chance getting ready to leave 47 Delaware Street in Ottawa to head for the Lisgar Ski Bus on their way to Camp Fortune.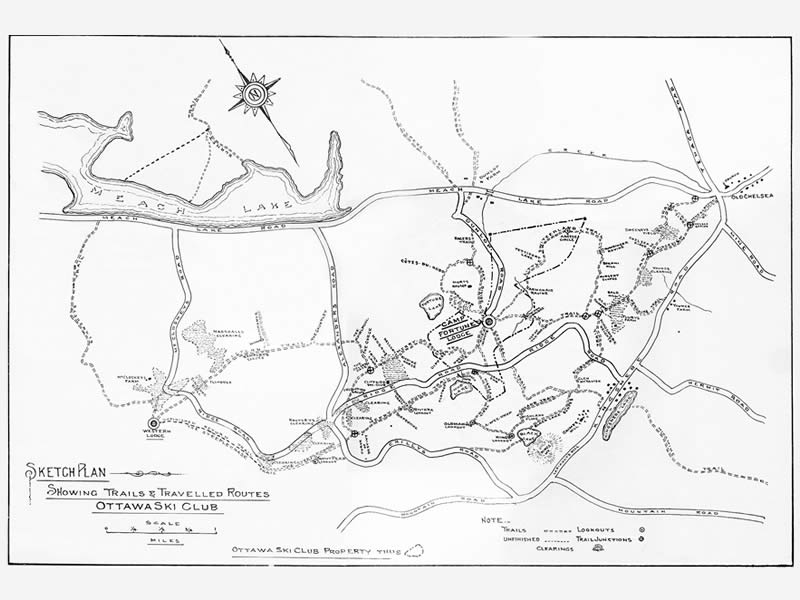 Ottawa Ski Club Trails. A sketch plan showing trails and travelled routes of the Ottawa Ski Club. The map includes Meech Lake, Old Chelsea, Kingsmere, Camp Fortune, Mountain Road and areas between.
The Lockeberg Ski Jump at the 1949 Central Canada Ski Championships held at Camp Fortune by the Ottawa Ski Club. The Lockeberg Lodge can be seen in the distance. This jumper is Hugsted who achieved 161 feet.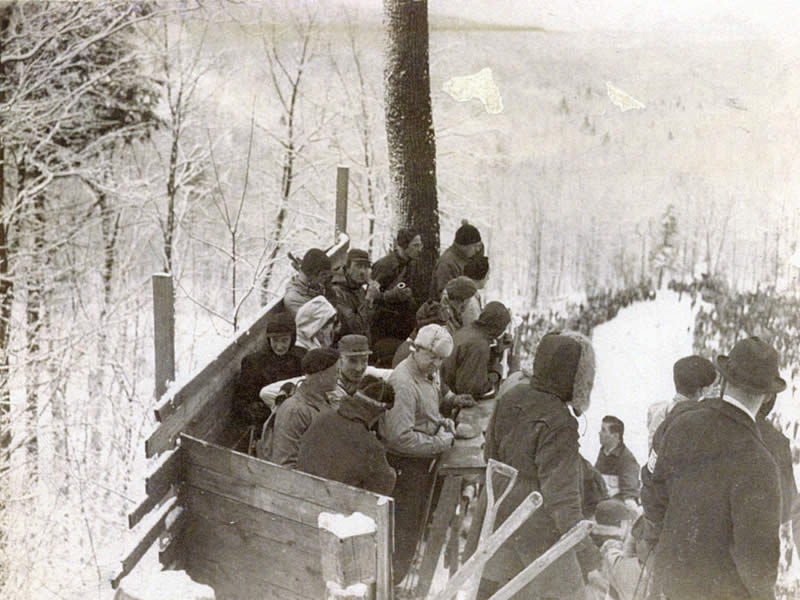 1949 – Visitors stand for the Ski Jump at the 1949 Ski Championships held at Camp Fortune by the Ottawa Ski Club.