Congratulations  and thank you to Gerry Larocque and Peter Harle for raising $4625 for CADS!!! What a great effort from these very talented and generous artists! 
In person Art Show invitation:
"Get Out Here" on December 17-18 and meet local artists, and skiers Gerry Larocque and Peter Harle as they raise funds for Canadian Adaptive Snowsports, National Capital Division at their "Get Out There" art show.  All the works are for sale, just in time for Christmas and 100% of the funds are donated directly to CADS-NCD. All buyers will receive a tax-deductible charitable tax receipt. Camp Fortune purchased this incredible piece and we can't wait for you to see it. Gerry and Peter are very talented and VERY generous!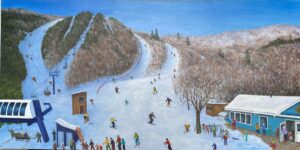 Get out There Art Fundraiser 
We have teamed up with local artists and passionate skiers, Gerry Larocque and Peter Harle to bring you a virtual art show and fundraiser where 100% of the proceeds will go to support Canadian Adaptive Snowsports-National Capital Region (CADS-NCD)! Thank you, Gerry and Peter, what a fabulous way to raise money for a great cause.
Paintings will be featured throughout October, November and December. Perfect timing for gift giving season!
Follow the virtual art show on Instagram and Facebook.
We are please to present several pieces of art in the show. 
To buy a painting, simply DM the artist on Instagram, or send an email to Gerry or email Peter  then present a copy of your tax-deductible donation to CADS-NCD in the amount for the painting. You will then receive communication to arrange delivery / pick up.
More about CADS, CADS-NDCD, and Ski Hawks Ottawa.
Canadian Adaptive Snowsports (CADS) is a volunteer-based, non-profit national and international leader in alpine adaptive snowsports committed to the idea that "SKIING IS FOR EVERYONE". For more information, please visit https://cads.ski
Canadian Adaptive Snowsports – National Capital Division (CADS – NCD) is the division of CADS that oversees adaptive ski and snowboard programs and services operating in the regions of Eastern Ontario and Western Quebec. CADS – NCD supports seven formal programs and a variety of services related to the adaptive skiing and snowboarding in this region.  Learn more. 
Did you know? Camp Fortune hosts the Ottawa Ski Hawks, a division of CADS-NCD.
Ski Hawks Ottawa offers an alpine ski program for skiers from 8 years to senior adults with a wide range of skiing abilities. The group of over 75 skiers and guides has been skiing at Camp Fortune for over 40 years. With the help of volunteer guides, visually impaired and blind skiers from Ski Hawks Ottawa enjoy the challenges and fun of skiing. Trained volunteers expertly guide visually impaired and blind skiers and snowboarders down the slopes, calling out the turns and warning of obstacles ahead.  Learn more.