Important information
for our customers.
Your pass will not be active until you visit us and present your proof of vaccination.
The vaccine passport (for ages 13+), accompanied by a government ID, is 
mandatory to access Camp Fortune
this season.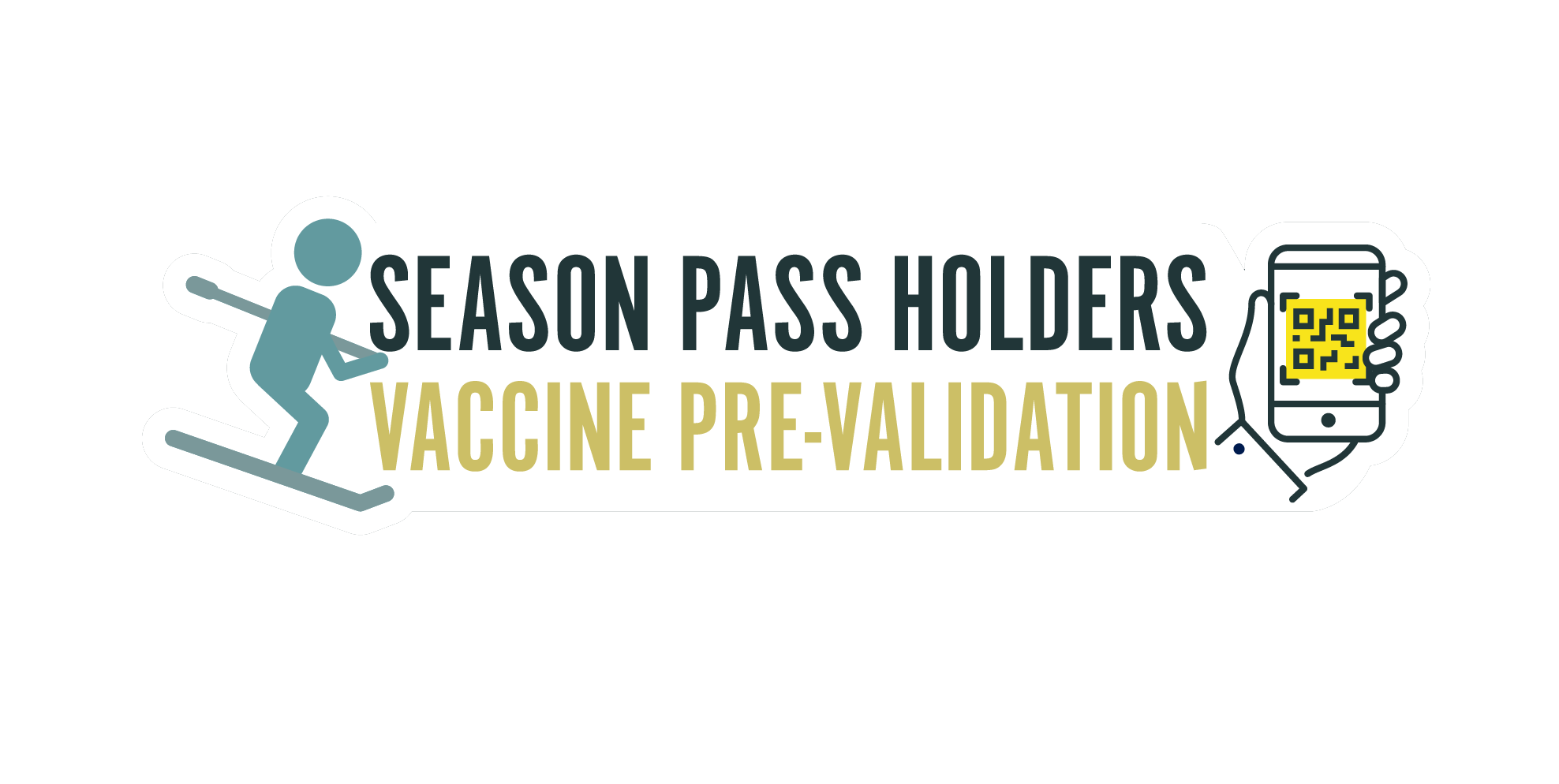 Important information for our customers.
Camp Fortune's sanitary measures and what you need to know. Information will be update frequently.
The sanitary measures determined by Public Health must be respected at all times. Depending on the evolution of the epidemiological situation, it is possible that during the season these measures may change. All season pass holders and ski ticket holders undertake to respect the measures in place at the time of their visit to the resort. 
COVID-19 update and health measures
Following the government of Québec's announcement of December 30, 2021, we are obliged to make certain operational changes, in effect January 1, 2022. Here is what you need to know:
Hours
No change at this time. 
Food services
Eating in the lodges is not permitted until further notice. Take out food will be available in the Valley from the cafeteria and exterior chalet and at Skyline from the food trailer. All food, including snacks, must be consumed outside or in your car. The bar is also closed until further notice.
Lodges
Bags and personal items are no longer permitted in the lodges until further notice. The chalets will be available to you, with reduced capacity, to warm up or go to the bathroom. The maximum time inside the chalets will be 20 minutes. It will be forbidden to eat inside the lodges, whether it is a meal or a snack. Please consider using your car as your personal ski lodge.
Chairlifts
The use of the chairlift guests of the same household (family bubble) is preferred. In the queue and on the chairlifts, wearing masks and keeping your distance is strongly recommended.
Lessons
Ski and snowboard lessons are maintained for now. All participants must wear a procedural mask. Buffs and neck warmers are NOT accepted. We will send communication to 9 week participants next week with instructions. Private lessons are available on a first come, first served come basis.
Rentals
Our rental department is open. Rentals are available on site; advance reservations are not available. We have lots of stock and are rarely sold out of rentals. Please be patient as our capacity in rentals is limited to 10 people at a time. Expect to wait outside before being served.
Boutique
La Boutique is open daily. 
Lift tickets
We continue to limit the number of skiers and snowboarders on site. Season passholders are always welcome. Lift tickets are sold in limited quantities and are date specific. These must be purchased online, in advance.
Patience and kindness
We ask for your patience and kindness towards our staff as we operate in a pandemic, with changing government regulations and a wide spread staff shortage. We are limiting the number of lift tickets this season in an effort to manage skiers and snowboarders on site. However, please do expect wait times to be greater than normal due to the forementioned circumstances.
It is of the upmost importance that you arrive ready to ski or ride, wear a mask and abide by all sanitary measures.
Proof of vaccination: 
Ski season is here! Vaccine passports are mandatory this year and all season passes have been deactivated. Come visit us to present your proof of vaccination and reactivate your pass. In season simply flash your validated pass at the checkpoint.
The vaccine passport (for ages 13+), accompanied by a government ID, will be mandatory to access Camp Fortune this season. Visit us today and complete the pre-season screening to activate your pass. Bring your Express card if you already have one. New pass holders will be issued an Express card on site.
Visitors who do not reside in Quebec must present a proof of identity with photo and address outside Quebec, as well as the official vaccination proof provided by their country or Canadian province. For more details visit quebec.ca
If you are experiencing any symptoms of COVID-19 or have come in contact with anyone who has COVID-19 you may NOT come to Camp Fortune. Please consult with public health.
As soon as you arrive, you will be asked to show your proof of vaccination and ID. In order to protect the health and safety of customers, important measures have been put in place and they are strictly enforced. You will have to comply at all times.
Questions? Get answers before coming to Camp Fortune by calling 819-827-1717 ext 0 or by emailing info@campfortune.com
Respect a distance of 2 meters at all times with other visitors and employees inside and outside.

Wearing a 2+ layer mask is recommended outside and mandatory inside unless eating while seated.
Ski Well, Be Well Helpful Tips